Test: Lenovo Yoga 3 14 (sammanfattning)
Lenovo Yoga 3 14


HD Graphics 5500, 5200U, Samsung SSD PM851 256 GB MZYTE256HMHP

Lenovo Flex 2 14


GeForce 840M, 4010U, Samsung SSD PM851 128 GB MZ7TE128HMGR

Asus Transformer Book Flip TP300LD-C4031H


GeForce 820M, 4510U, SanDisk SD6SB1M128G1002

Lenovo Yoga 2 13


HD Graphics 4400, 4010U, WD Blue UltraSlim WD5000MPCK-22AWHT0

Lenovo Yoga 2 Pro


HD Graphics 4400, 4200U, Samsung SSD PM841 MZMTD128HAFV mSATA

Screen

15%

18%

16%

15%

Brightness middle

234.6

Brightness

225

Brightness Distribution

82

Black Level *

0.394

Contrast

595

Colorchecker DeltaE2000 *

5.22

Greyscale DeltaE2000 *

3.35

Gamma

2.27 97%

2.53 87%

2.35 94%

2.5 88%

2.44 90%

CCT

6184 105%

6401 102%

6435 101%

6771 96%

6461 101%

Color Space (Percent of AdobeRGB 1998)

36.92
* ... smaller is better
PCMark 7 Score
4659 poäng
PCMark 8 Home Score Accelerated v2
2795 poäng
PCMark 8 Creative Score Accelerated v2
3756 poäng
PCMark 8 Work Score Accelerated v2
3315 poäng

Hjälp
3DMark 06 Standard
6041 poäng
3DMark Vantage P Result
4030 poäng
3DMark 11 Performance
1013 poäng
3DMark Ice Storm Standard Score
42707 poäng
3DMark Cloud Gate Standard Score
4537 poäng
3DMark Fire Strike Score
610 poäng

Hjälp
Ljudnivå
Låg belastning

32.2 / 32.5 / 32.6 dB(A)

Hög belastning

33.6 / 37.2 dB(A)




30 dB
tyst

40 dB(A)
hörbar

50 dB(A)
högt ljud

min:

, med:

, max:

Voltcraft sl-300 (15 cm avstånd)
(+)
The average temperature for the upper side under maximal load is 27.4 °C / 81 F, compared to the average of 30.3 °C / 87 F for the devices in the class Convertible.
(+)
The maximum temperature on the upper side is 34.6 °C / 94 F, compared to the average of 35.3 °C / 96 F, ranging from 21.8 to 55.7 °C for the class Convertible.
(±)
The bottom heats up to a maximum of 44.4 °C / 112 F, compared to the average of 36.5 °C / 98 F
(+)
In idle usage, the average temperature for the upper side is 22.7 °C / 73 F, compared to the device average of 30.3 °C / 87 F.
(+)
The palmrests and touchpad are cooler than skin temperature with a maximum of 23.8 °C / 74.8 F and are therefore cool to the touch.
(+)
The average temperature of the palmrest area of similar devices was 28.8 °C / 83.8 F (+5 °C / 9 F).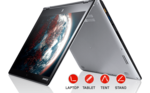 Uppdaterad hårdvara, större skärm, bättre batteritid – låter inte fel? Yoga 3 14 förbättrar föregångaren Yoga 2 13 i flera avseenden. Trots den större 14-tumsskärmen och ett mindre batteri har den nya modellen bättre prestanda och betydligt längre batteritid.
SSD-disken på 256 GB från Samsung är blixtsnabb, så uppstart, avstängning och laddningstider är verkligen imponerande. Hybriden håller sig någorlunda tyst under normala förhållanden och hanterar hög belastning utan problem.
Inmatningsenheterna är ganska bra för att sitta på en konsumentenhet och tangentbordet har bakgrundsbelysning. De olika arbetslägena fungerar också bra, även om vi skulle rekommendera att man undviker stativläget, då tangentbordet är oskyddat och vidrör ytan det står på.
Tyvärr är den nya skärmen inte lika ljusstark som föregångarens, som inte var särskilt ljusstark till att börja med. Den täcker dessutom bara ungefär hälften av färgrymden sRGB. Användning utomhus i ljusa förhållanden är därför starkt begränsad.
Ett alternativ till Yoga 3 14 är Lenovos äldre Yoga 2 Pro, som har en betydligt mer ljusstark QHD+-skärm (340 nits, 3200 x 1800 pixlar). Asus Transformer Book Flip har också en bättre skärm och ett enklare dedikerat grafikkort, så spelprestandan är lite bättre. Acers Aspire R13 R7 är också ett anständigt, om än mycket okonventionellt val. Prismedvetna köpare kanske också vill ta en titt på Lenovo Flex 2 14, som bara har två lägen, men ändå en IPS-skärm och en tilltalande prislapp.