Test: Lenovo IdeaPad G50-70 (sammanfattning)
PCMark 7 Score

2688 poäng
PCMark 8 Home Score Accelerated v2

2974 poäng
PCMark 8 Creative Score Accelerated v2

3355 poäng
PCMark 8 Work Score Accelerated v2

3952 poäng

Hjälp
Seagate Momentus Thin ST500LT012-1DG142
Sequential Write: 78 MB/s
3DMark 11 Performance

1302 poäng
3DMark Ice Storm Standard Score

44899 poäng
3DMark Cloud Gate Standard Score

3899 poäng
3DMark Fire Strike Score

720 poäng

Hjälp
3DMark 11 - 1280x720 Performance (sort by value)
Lenovo IdeaPad G50-70


Radeon R5 M230, 4200U, Seagate Momentus Thin ST500LT012-1DG142

Dell Inspiron 15-5547


Radeon R7 M265, 4210U, WDC Scorpio Blue WD10JPVX-75JC3T0

Lenovo G500s-59367693


HD Graphics (Ivy Bridge), 2020M, Seagate Momentus Thin ST500LT0 12-9WS142

Acer Aspire E1-572G-54204G50Mnkk


Radeon R7 M265, 4200U, Seagate Momentus Thin ST500LT0 12-9WS142

Asus X550LD-XX023H


GeForce 820M, 4200U, Toshiba MQ01ABF050

HP Compaq 15-a024sg


GeForce 820M, 3110M, HGST Travelstar 5K1000 HTS541010A9E680

HP Pavilion 15-n213eg


GeForce GT 740M, 4200U, Toshiba MQ01ABD100

MSI CX61-i572M


GeForce GT 720M, 4200M, WDC Scorpio Blue WD10JPVX-22JC3T0
3DMark
1280x720 Ice Storm Standard Score (sort by value)
Lenovo IdeaPad G50-70


Radeon R5 M230, 4200U, Seagate Momentus Thin ST500LT012-1DG142

Dell Inspiron 15-5547


Radeon R7 M265, 4210U, WDC Scorpio Blue WD10JPVX-75JC3T0

Lenovo G500s-59367693


HD Graphics (Ivy Bridge), 2020M, Seagate Momentus Thin ST500LT0 12-9WS142

Acer Aspire E1-572G-54204G50Mnkk


Radeon R7 M265, 4200U, Seagate Momentus Thin ST500LT0 12-9WS142

Asus X550LD-XX023H


GeForce 820M, 4200U, Toshiba MQ01ABF050

HP Compaq 15-a024sg


GeForce 820M, 3110M, HGST Travelstar 5K1000 HTS541010A9E680

HP Pavilion 15-n213eg


GeForce GT 740M, 4200U, Toshiba MQ01ABD100

MSI CX61-i572M


GeForce GT 720M, 4200M, WDC Scorpio Blue WD10JPVX-22JC3T0

1280x720 Cloud Gate Standard Score (sort by value)
Lenovo IdeaPad G50-70


Radeon R5 M230, 4200U, Seagate Momentus Thin ST500LT012-1DG142

Dell Inspiron 15-5547


Radeon R7 M265, 4210U, WDC Scorpio Blue WD10JPVX-75JC3T0

Lenovo G500s-59367693


HD Graphics (Ivy Bridge), 2020M, Seagate Momentus Thin ST500LT0 12-9WS142

Acer TravelMate P255-MG-54204G50Mnkk


Radeon R7 M265, 4200U, Seagate Momentus Thin ST500LT0 12-9WS142

Acer Aspire E1-572G-54204G50Mnkk


Radeon R7 M265, 4200U, Seagate Momentus Thin ST500LT0 12-9WS142

Asus X550LD-XX023H


GeForce 820M, 4200U, Toshiba MQ01ABF050

HP Compaq 15-a024sg


GeForce 820M, 3110M, HGST Travelstar 5K1000 HTS541010A9E680

HP Pavilion 15-n213eg


GeForce GT 740M, 4200U, Toshiba MQ01ABD100

MSI CX61-i572M


GeForce GT 720M, 4200M, WDC Scorpio Blue WD10JPVX-22JC3T0

1920x1080 Fire Strike Score (sort by value)
Lenovo IdeaPad G50-70


Radeon R5 M230, 4200U, Seagate Momentus Thin ST500LT012-1DG142

Dell Inspiron 15-5547


Radeon R7 M265, 4210U, WDC Scorpio Blue WD10JPVX-75JC3T0

Lenovo G500s-59367693


HD Graphics (Ivy Bridge), 2020M, Seagate Momentus Thin ST500LT0 12-9WS142

Acer Aspire E1-572G-54204G50Mnkk


Radeon R7 M265, 4200U, Seagate Momentus Thin ST500LT0 12-9WS142

Asus X550LD-XX023H


GeForce 820M, 4200U, Toshiba MQ01ABF050

HP Compaq 15-a024sg


GeForce 820M, 3110M, HGST Travelstar 5K1000 HTS541010A9E680

HP Pavilion 15-n213eg


GeForce GT 740M, 4200U, Toshiba MQ01ABD100

MSI CX61-i572M


GeForce GT 720M, 4200M, WDC Scorpio Blue WD10JPVX-22JC3T0
Ljudnivå
Låg belastning

29.8 / 30.5 / 31 dB(A)

Hårddisk

30 dB(A)

DVD

34.6 / dB(A)

Hög belastning

33.6 / 36 dB(A)




30 dB
tyst

40 dB(A)
hörbar

50 dB(A)
högt ljud

min:

, med:

, max:

Voltcraft sl-320 (15 cm avstånd)
(-)
The average temperature for the upper side under maximal load is 39 °C / 102 F, compared to the average of 31.2 °C / 88 F for the devices in the class Multimedia.
(-)
The maximum temperature on the upper side is 45.1 °C / 113 F, compared to the average of 36.9 °C / 98 F, ranging from 21.1 to 71 °C for the class Multimedia.
(±)
The bottom heats up to a maximum of 42.7 °C / 109 F, compared to the average of 39.2 °C / 103 F
(+)
In idle usage, the average temperature for the upper side is 27.9 °C / 82 F, compared to the device average of 31.2 °C / 88 F.
(-)
The palmrests and touchpad can get very hot to the touch with a maximum of 42.3 °C / 108.1 F.
(-)
The average temperature of the palmrest area of similar devices was 28.9 °C / 84 F (-13.4 °C / -24.1 F).
Strömförbrukning
Av/Standby

0.1 / 0.2 Watt

Låg belastning

2.6 / 5.5 / 10 Watt

Hög belastning

24 / 58.2 Watt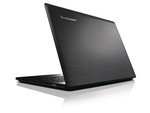 Riktiga gamers bör se upp - Lenovo IdeaPad G50-70 är inte gjord för spel. Radeon R5 M230 bär det största ansvaret för att prestandan inte räcker till. Grafikkortet är bara lämpligt för de som inte har något intresse av 3D-titlar utan föredrar webbläsarspel eller liknande. Och om man inte har för avsikt att spela 3D-spel så klarar man sig ändå med ett integrerat grafikkort. Det finns alltså ingen mening att betala mer för ett Radeon R5 M230 och även få ökad strömförbrukning på köpet.
Men det finns säkert billigare konfigurationer av IdeaPad G50-70 utan dedikerat grafikkort, och du får trots allt något för pengarna: Ett attraktivt chassi till exempel – även om det saknar aluminiumlock som Dell Inspiron 15-5547. Men plasten har struktur och insidan ser ut som borstad aluminium. Att underhålla datorn är enkelt, nätverksmodulerna stöder de vanliga standarderna och har en respektabel mottagning. Inmatningsenheterna är välgjorda också. Högtalarna är bra, och batteritiden är tillräckligt lång för att fungera på resan.
Att Lenovo bytte ut G500:s USB 3.0-port mot USB 2.0-porten är bara onödigt och en skärm med bättre färgåtergivning och en icke-reflekterande yta skulle också ha gjort datorn bättre. Det är trevligt att systemet är så tyst, men under hög belastning blir de höga temperaturerna ett problem.
Sammantaget visade sig den Lenovo G50-70 vi testade vara en enhet med tydliga styrkor och svagheter - varav de senare ofta hade kunnat undvikas. Kort sagt: Lenovos försök att spara pengar är uppenbart. Ändå har Lenovo G50-70 potential att bli en trevlig dator. Om du bara letar efter en bärbar dator för vardagliga uppgifter har den ett attraktivt chassi, tillräckligt med prestanda och inte minst tämligen bra inmatningsenheter.