Test: HP Pavilion 13-a000ng x360 (sammanfattning)
HP Pavilion 13-a000ng x360


HD Graphics 4400, 4030U, Seagate ST500LM000 Solid State Hybrid Drive

Lenovo Yoga 2 13


HD Graphics 4400, 4010U, WD Blue UltraSlim WD5000MPCK-22AWHT0

Toshiba Satellite W30Dt-A-100


Radeon HD 8180, A4-1200, WD Blue UltraSlim WD5000MPCK-22AWHT0

Lenovo Yoga 2 Pro


HD Graphics 4400, 4200U, Samsung SSD PM841 MZMTD128HAFV mSATA

Display
Display P3 Coverage

65.5

39.12

42.03

sRGB Coverage

96.2

57.9

63.3

AdobeRGB 1998 Coverage

67.7

40.13

43.42

Screen

43%

15%

45%

Brightness middle

168

Brightness

156

Brightness Distribution

88

Black Level *

0.39

Contrast

431

Colorchecker dE 2000 *

9.65

Greyscale dE 2000 *

10.03

Gamma

2.09 105%

2.5 88%

2.33 94%

2.44 90%

CCT

11308 57%

6771 96%

6993 93%

6461 101%

Color Space (Percent of AdobeRGB 1998)

62.1

36.7

40.49

Total Average (Program / Settings)
* ... smaller is better
PCMark 7 Score

3349 poäng
PCMark 8 Home Score Accelerated v2

2179 poäng
PCMark 8 Creative Score Accelerated v2

2224 poäng
PCMark 8 Work Score Accelerated v2

3115 poäng

Hjälp
Seagate ST500LM000 Solid State Hybrid Drive
Överföringshastighet min.: 46 MB/s
Överföringshastighet max.: 112.2 MB/s
Överföringshastighet med.: 85.8 MB/s
3DMark 11 Performance

812 poäng
3DMark Ice Storm Standard Score

32613 poäng
3DMark Cloud Gate Standard Score

3711 poäng

Hjälp
Ljudnivå
Låg belastning

33.5 / 33.7 / 33.7 dB(A)

Hög belastning

38.7 / 43.6 dB(A)




30 dB
tyst

40 dB(A)
hörbar

50 dB(A)
högt ljud

min:

, med:

, max:

Voltcraft sl- 320 (15 cm avstånd)
(+)
The average temperature for the upper side under maximal load is 29.7 °C / 85 F, compared to the average of 30.2 °C / 86 F for the devices in the class Convertible.
(+)
The maximum temperature on the upper side is 34.1 °C / 93 F, compared to the average of 35.2 °C / 95 F, ranging from 19.6 to 55.7 °C for the class Convertible.
(+)
The bottom heats up to a maximum of 35.5 °C / 96 F, compared to the average of 36.6 °C / 98 F
(+)
In idle usage, the average temperature for the upper side is 25.3 °C / 78 F, compared to the device average of 30.2 °C / 86 F.
(+)
The palmrests and touchpad are cooler than skin temperature with a maximum of 29.2 °C / 84.6 F and are therefore cool to the touch.
(±)
The average temperature of the palmrest area of similar devices was 28.3 °C / 82.9 F (-0.9 °C / -1.7 F).
Strömförbrukning
Av/Standby

0 / 0.2 Watt

Låg belastning

4 / 5.9 / 6.1 Watt

Hög belastning

26.1 / 29.7 Watt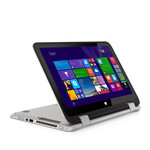 I dagsläget försöker tillverkarna ta nya vägar för att sticka ut i mängden. Medan det tidigare handlade mest om högre klockhastigheter, handlar det numera om fler kärnor och effektivisering av systemkomponenterna. Idag måste en "laptop" vara mer än en vanlig bärbar dator för att ta sig an den hårda konkurrensen i premiumsegmentet.
HP försöker nu ta efter framgångarna med Lenovos Yoga i mellanprisklassen, som även förbättrats med Yoga 2 13. Tyvärr har man misslyckas på grund av några detaljer. Skärmens betraktningsvinklar gör surfplattan nästan oanvändbar. Den reflekterande skärmen distraherar även stationär användning, vilket till och med förstärks av den ibland synliga pekskärmsmatrisen, den måttliga ljusstyrkan och oskärpan. Även om övriga komponenter som processorn är utmärkta, har den mångsidighet som HP tar extra betalt för inte implementerats fullt ut.
Den som främst tänkt använda enheten som en ovanlig laptop på skrivbordet, och bara ibland använder touch-funktionerna och rörliga skärmen, kan bli nöjda med HP:s cabriolet. Men inte utan kompromisser med skärmen och/eller bildkvaliteten. Vill man verkligen använda alla fördelar med ett sådant mångsidigt system är det bättre att spendera lite mer på en Lenovo Yoga 2 13, främst på grund av den överlägsna skärmen.