Test: MSI GP60-2PEi585 (sammanfattning)
MSI GP60-2PEi585


GeForce 840M, 4200H, Western Digital Scorpio Blue WD5000LPVX

Lenovo IdeaPad Y510p


GeForce GT 750M SLI, 4700MQ, Samsung SpinPoint M8 HN-M101MBB

Asus F550LN-CN89H


GeForce 840M, 4500U, Seagate Momentus SpinPoint M8 ST1000LM024 HN-M101MBB

Asus N550JK-CN109H


GeForce GTX 850M, 4200H, Seagate Momentus SpinPoint M8 ST1000LM024 HN-M101MBB

Screen

-5%

-6%

5%

Brightness middle

228

Brightness

209

Brightness Distribution

77

Black Level *

0.3

Contrast

760

Colorchecker DeltaE2000 *

7.11

Greyscale DeltaE2000 *

8.38

Gamma

2.22 99%

2.55 86%

2.36 93%

2.63 84%

CCT

10041 65%

11341 57%

6991 93%

6119 106%

Color Space (Percent of AdobeRGB 1998)

56
* ... smaller is better
Cinebench R11.5
CPU Single 64Bit (sort by value)
MSI GP60-2PEi585


GeForce 840M, 4200H, Western Digital Scorpio Blue WD5000LPVX

Asus F550LN-CN89H


GeForce 840M, 4500U, Seagate Momentus SpinPoint M8 ST1000LM024 HN-M101MBB

Asus F550LN-CN89H


GeForce 840M, 4500U, Seagate Momentus SpinPoint M8 ST1000LM024 HN-M101MBB

Lenovo IdeaPad Y510p 59-395032


GeForce GT 755M, 4700MQ, Seagate ST1000LM014 Solid State Hybrid Drive

Asus VivoBook S451LB-CA072H


GeForce GT 740M, 4200U, Hitachi Travelstar Z5K500 HTS545050A7E680

Medion Akoya E6239T


HD Graphics (Bay Trail), N3510, Seagate Momentus SpinPoint M8 ST1000LM024 HN-M101MBB

CPU Multi 64Bit (sort by value)
MSI GP60-2PEi585


GeForce 840M, 4200H, Western Digital Scorpio Blue WD5000LPVX

Asus F550LN-CN89H


GeForce 840M, 4500U, Seagate Momentus SpinPoint M8 ST1000LM024 HN-M101MBB

Asus F550LN-CN89H


GeForce 840M, 4500U, Seagate Momentus SpinPoint M8 ST1000LM024 HN-M101MBB

Lenovo IdeaPad Y510p 59-395032


GeForce GT 755M, 4700MQ, Seagate ST1000LM014 Solid State Hybrid Drive

Asus VivoBook S451LB-CA072H


GeForce GT 740M, 4200U, Hitachi Travelstar Z5K500 HTS545050A7E680

Medion Akoya E6239T


HD Graphics (Bay Trail), N3510, Seagate Momentus SpinPoint M8 ST1000LM024 HN-M101MBB
PCMark 7 Score
2953 poäng
PCMark 8 Home Score Accelerated
2912 poäng
PCMark 8 Creative Score Accelerated
3077 poäng
PCMark 8 Work Score Accelerated
3690 poäng

Hjälp
Western Digital Scorpio Blue WD5000LPVX
Överföringshastighet min.: 39.5 MB/s
Överföringshastighet max.: 118.6 MB/s
Överföringshastighet med.: 87 MB/s
3DMark 11 Performance
2562 poäng
3DMark Ice Storm Standard Score
54685 poäng
3DMark Cloud Gate Standard Score
6707 poäng
3DMark Fire Strike Score
1448 poäng

Hjälp
Ljudnivå
Låg belastning

33 / 33.2 / 33.4 dB(A)

Hårddisk

33.4 dB(A)

DVD

37.7 / 37.7 dB(A)

Hög belastning

36.2 / 50 dB(A)




30 dB
tyst

40 dB(A)
hörbar

50 dB(A)
högt ljud

min:

, med:

, max:

Voltcraft sl-320 (15 cm avstånd)
(±)
The average temperature for the upper side under maximal load is 35.4 °C / 96 F, compared to the average of 31 °C / 88 F for the devices in the class Multimedia.
(±)
The maximum temperature on the upper side is 40.6 °C / 105 F, compared to the average of 36.6 °C / 98 F, ranging from 21.1 to 71 °C for the class Multimedia.
(±)
The bottom heats up to a maximum of 42.5 °C / 109 F, compared to the average of 38.9 °C / 102 F
(+)
In idle usage, the average temperature for the upper side is 25.9 °C / 79 F, compared to the device average of 31 °C / 88 F.
(±)
The palmrests and touchpad can get very hot to the touch with a maximum of 36.3 °C / 97.3 F.
(-)
The average temperature of the palmrest area of similar devices was 29 °C / 84.2 F (-7.3 °C / -13.1 F).
Strömförbrukning
Av/Standby

0.1 / 0.2 Watt

Låg belastning

7.3 / 13.1 / 21.7 Watt

Hög belastning

50.8 / 74.5 Watt




Förklaring: min:

, med:

, max:

Voltcraft VC 940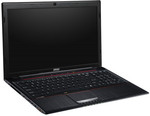 GP60 2Pei585 "Leopard" är bara en av många liknande modeller med olika processorer och grafikkort från MSI. De komponenter som ingår motiverar nätt och jämnt en prislapp på strax under 8000 kr, varav enbart operativsystemet kostar en tusenlapp. MSI har även ett liknande system med det äldre grafikkortet GT 740M och en fyrkärnig Intel Core i7-4700MQ utan OS och till ett lägre pris.
Den använda CPU/GPU-kombinationen är inte fullt tillräcklig för inbitna gamers, men många spel går att spela smidigt med höga inställningar. Prestandan i systemet är alltid mycket hög, men tyvärr på bekostnad av en mindre strömsnål processor. Därför bör systemet användas på skrivbordet snarare än i trädgården.
Den högupplösta, icke-reflekterande Full HD-skärmen är värd att nämna. Den är inte bara tillräckligt ljus, utan också kontrastrik och med bra betraktningsvinklar. Läsbarheten utomhus är bättre än hos flera av konkurrenterna.
Om du inte har något emot ett lite tjockare plastchassi och vill kunna spela något mer krävande spel, är prislappen eventuellt motiverad. Men överväg också den billigare systermodellen med ett grafikkort från förra generationen och en snabbare, fyrkärnig Intel-processor.